Skip to Content
The best of Maui awaits
Embark on your seafaring journey with Alii Nui, a snorkeling expedition that offers a little bit of everything. After departing Ma'alaea Harbor, we'll aim for Molokini crater, giving you the chance to snorkel in its pristine, crystal-clear waters. A second stop at Turtle Town, a known resting spot for resident Honu, will round out a perfect morning before returning home.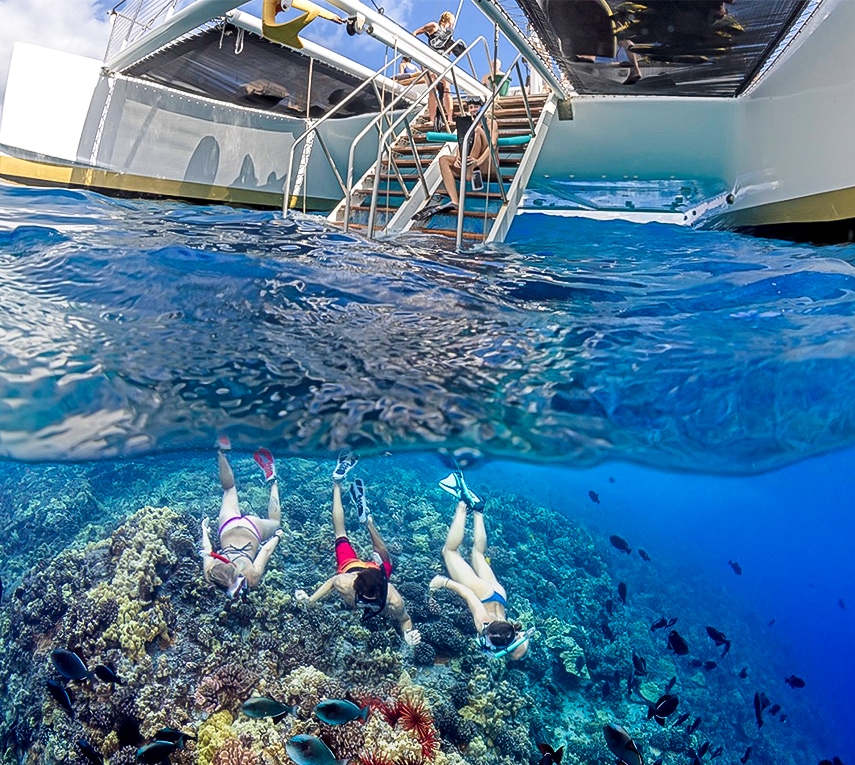 Features
Charter Inclusions
5 hour luxury snorkeling experience
Two stops at premier snorkeling locations
Exceptional service
Full breakfast, snacks, and lunch
Beer, wine, sparkling wine, and seltzer
Premium complimentary snorkeling equipment
Use of wetsuit tops and flotation gear
Free transportation
Charters capped at less than full capacity to assure guest comfort
Two oversized clean bathrooms
Fresh warm water showers
Complimentary use of towels and sunscreen
Easy access from dock
Spacious covered cabin for shade
---
Food Menu
Breakfast
Cinnamon Rolls with Cream Cheese Icing
Kula Fruit Platter 
Breakfast Scramble with Eggs, Potatoes, Cheese, Onion, Bell Peppers, and Salsa
Croissant Deli Sandwiches
Hors d'oeuvres
Spicy and Shoyu Ahi Poke*
Mini Marinated Spam Musubi
Lunch
Kula Greens Salad with Candied Macadamia Nuts, Cherry Tomatoes, Shaved Red Onion, and Feta Cheese with Champagne Vinaigrette or House-Made Ranch Dressing 
Hawaiian Mac Salad 
White Rice with Furikake
Teriyaki Chicken Thighs with Scallions and Sesame Seeds 
Kalua Pork and Cabbage 
Dessert
White Chocolate Macadamia Nut Cookies 
Beverages
Coffee & Tea Bar
POG, Orange, Pineapple, and Cranberry Juice
Coca Cola Soda products and filtered water
Beer, Wine, Sparkling Wine, and Seltzers**
Menu items subject to change without notice
*Consuming raw or undercooked meats, poultry, seafood, shellfish, or eggs may increase the risk of food borne illnesses.
**Must be 21 or older to consume alcohol.
Additional Information
Vessel Location: Slip #56 Ma'alaea Harbor (300 Ma'alea Road, Wailuku, HI 96753) on the Oceanside Pier.
Parking: Arrive early to the harbor to use the QR Codes posted throughout the harbor to purchase parking using your smartphone. Rates are about $1/hour. Recommend paying for 6 hours to avoid any fees in case vessel has a delayed return to the harbor.
Waiver: All guests are required to fill out a waiver prior to boarding Alii Nui. Waivers may be completed using the link in your confirmation email from FareHarbor. They may also be completed here: https://waiver.smartwaiver.com/v/aliinui